Season 6 of Game of Thrones is in full swing! I am a reluctant latecomer to this show, as I don't watch any HBO shows and tend to not really jump on a popular show's bandwagon once it gets really big. Especially dramas. I was definitely really resistant to watching GoT because I heard it was very graphically violent and sexually explicit, two things I usually avoid in my shows.
But with spoilers on my newsfeeds and timelines every Sunday evening and Monday, I knew an awful lot about Game of Thrones without having ever watched a single minute from the show. I could have made a very impressive "Things I Know Without Watching the Show" slideshow, as I did with Doctor Who a few years back. (In fact, I think I started one and then just decided to watch the show, because I had so much information on my hands…)
So of course, in a totally expected move, I decided to have a themed watch party for the season 6 premiere! It was my first time watching the show live (and not several episodes at a time on HBOGo) so we went to Don and Megan's (of recently-married fame on this blog here) and had a themed feast! Don made each of us our own honey-glazed Cornish game hen with roasted onions, potatoes, and carrots. Ben and I brought bread & salt (which was supplemented with some olive oil and black pepper) and a salad to balance out our feast, as well as the ingredients for Sansa Stark's favorite lemon cakes.

Most fans may know that lemon cakes are Sansa's favorite food, but why? It stems from young Sansa's aspirations of being a lady, doing ladylike things, living that lavish lady life. Lemons are extremely hard to come by in frosty Winterfell, so it makes sense that a young girl who wants to live this life of luxury would yearn for this hard-to-get delicacy and how easily it fits into her image of what life as a lady would be like: laughing in a courtyard, drinking tea, eating lemon cakes, with other ladies who shared her interests. It's an idyllic world that, unfortunately, is unlikely to become a reality for Sansa. But she can still enjoy delicious lemon cakes.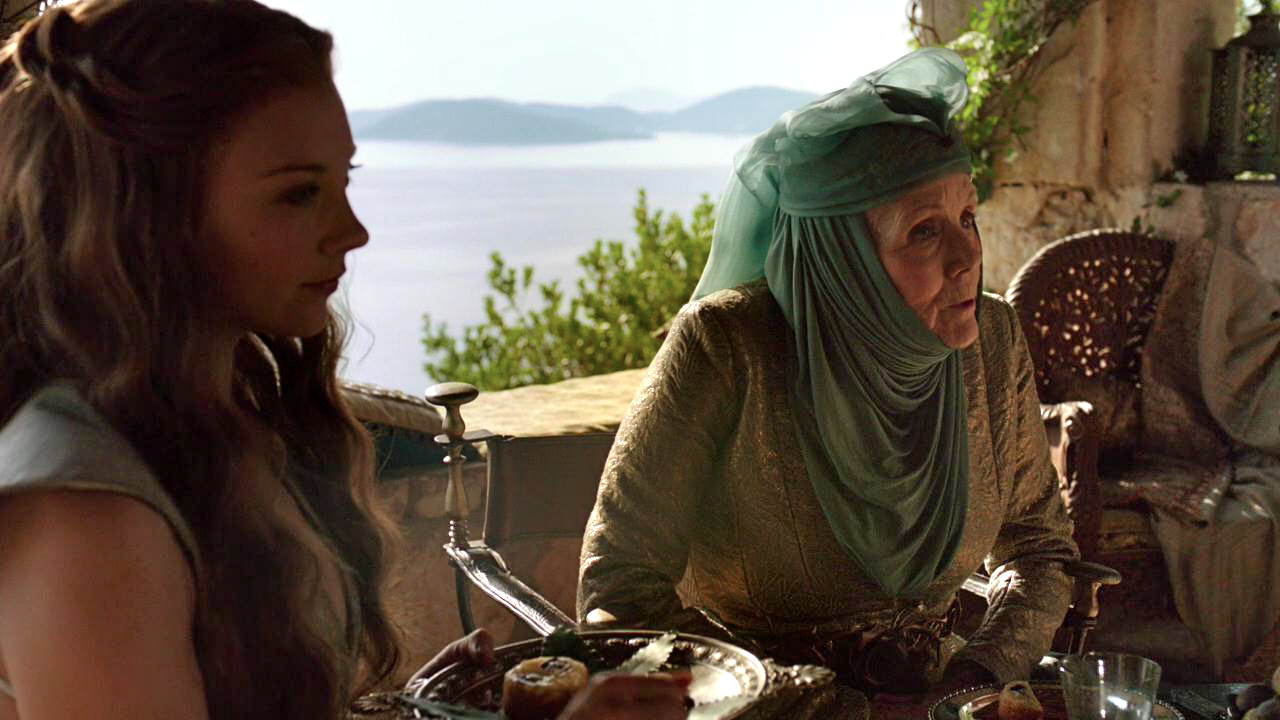 This was my first time using a recipe by Rosanna Pansino, aka Nerdy Nummies, and I had a few issues with doing so:
While she does have the ingredients + quantities listed in the video description, there were no steps written in the description and no link pointing to a written recipe anywhere to be found. So, I was stuck rewatching parts of her video over and over in order to get the steps. Thankfully, this was a fairly short and simple recipe.
The video was a bit annoying to watch over and over again. I felt like the target audience for Ro's video was children, with her overly playful and silly tone and jokes, and it was irritating listening to them over and over again trying to determine the directions for these cakes.
These cakes are intended to be served upside down so that the lemon on the bottom of the tins when you bake are on the top when you serve them. This is all well and fine BUT because we are baking in muffin tins, they have rounded tops and will not sit flat unless you slice off the bottoms. Which I would prefer not to do to avoid crumbly edges.
With that being said, here a written-down recipe adaptation of Ro's lemon cakes, which did turn out very delicious, especially served with the freshly whipped cream that Don whipped up.
Read More »