Ahhh the Oscars. The only awards show that I care about in any industry. I look forward to them all year long!
This year, I made a true effort to watch more of the Best Picture nominees although I still missed several. (Hey, there have been years where I've seen NONE of the Best Picture nominees.) Of course, that didn't stop me from having opinions based on other folks' reviews of those movies. (Boyhood? I was very surprised at how much buzz it was getting considering how much critics disliked it when it was released.)
I'm not professing to be any sort of film expert or critic. I'm an enthusiast at most, and I read a lot of what other folks think. So I had leanings for which movies and people were going to win awards.
Going into the awards, I was already a bit surprised by a few things. Of course, the Lego Movie snub was pretty surprising. I was also surprised that Interstellar got so little love outside of visual effects and sound work. I have zero idea how sound mixing and editing are judged (or even what the precise difference is… between the two?) but I was counting on Interstellar to win visual effects. I mean, it was such an accurate portrayal of cosmic phenomenon that have never been seen that 2 academic paper were written based on the work in the movie. But I did expect more nominations for Chris Nolan's latest.
I didn't watch the red carpet, because it's just not a priority to me what everyone is wearing. I do have to say something though: These interviewers are awful. They are not very charismatic, and you'd think that was the only real job requirement? Interviewers are supposed to be charismatic and easy to talk to? But I felt so uncomfortable watching, the actors looked VERY uncomfortable, the interviewers were very forced. Add this to the several incompetent interviews we've been seeing of late (e.g. calling Rashida Jones "tan" when she is, in fact, half-black) and I feel like no one would be upset if Hollywood just completely overhauled all of their red carpet interviewers. Can we do that please?
ONTO THE ACTUAL AWARDS SHOW.
Let's talk about this year's host, Neil Patrick Harris. Now, I love NPH, I truly do, with all my heart, I think he's fantastic and wonderful in every way. That being said, he is not going to go down as one of the best Oscar hosts. What happened? He's so charismatic usually, and we know he's a great host for so many other awards shows. What happened while they were doing the writing for the Oscars this year? The show wasn't terribly exciting for most people (I liked it) and so many of Neil's jokes fell really flat. I was really saddened by how disappointed I was. Especially because I think that the jokes just didn't plan very well? ESPECIALLY that stupid black briefcase gag. Why was that a thing. It would only have been redeemed if he had done some actual illusions (NPH is an actual magician and is often asked to incorporate magic tricks into his roles)  rather than lame "predictions". I hated that running gag the most, it was the biggest flop by far and Neil was trying so hard to make it funny but even he seemed exasperated by it.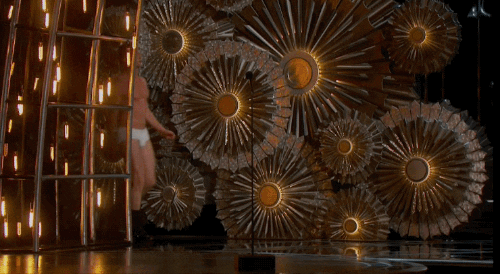 He did lead with a fantastic musical opening number written by Kristen Anderson-Lopez and Robert Lopez (aka the duo behind the Frozen soundtrack). Even though at this point, it's not novel or exciting when NPH does a musical number, it was still a great number. I liked the homages paid to cinema and how creatively it was done. (I can't help but think of 10-time host – Billy Crystal – who I remember put himself in movies when he last hosted in 2003. I remember it being 2003 because he donned a Legolas wig the year Return of the King was nominated.) I liked Anna Kendrick showing up in her Into the Woods Cinderella dress (and she was more animated on that stage than she was in the movie, in my opinion) although I think I actually winced when she sang a spoiler for Gone Girl. ("… spoiler alert." – NPH) (NPH was in Gone Girl, just to clarify) I was really really confused about Jack Black joining in on the number ("Screen in your jeans!") because I just don't know what he has been doing lately? As in why he is relevant in 2014-2015 film culture? Anyway, it was a fun number.
I want to first do a shout-out for two folks who got their first wins. Every year, I am surprised by people whose names are so respected in the industry but somehow don't have Oscars. In fact, we often hear their names at the Oscars and only realize when they win that they've just been nominated several times. (For example, when Christopher Plummer won his first Oscar, he became the oldest first-time recipient in Oscar history. Seriously!)
Alejandro González Iñárritu, who was previously nominated

4

times, won 3 awards for Birdman. (Best Original Screenplay, Best Director, and Best Picture) Well-deserved, that movie was fantastic.
Alexandre Desplat, who was previously nominated

6

times, won his first Best Original Score award for Grand Budapest Hotel. Strangely, he was actually nominated TWICE in this category this year; his second nomination was for The Imitation Game. I was stunned that this was his first win, considering how many stellar soundtrack's he has done.
Also, can we talk about the amazing speeches that were given? Oscar movies are getting at very real issues and winners are using their speeches as a platform to say something real and not just thank their agents and the studios. To name a few memorable ones:
Patricia Arquette (Best Supporting Actress, Boyhood): feminism

Which gave us this beautiful moment

Common & John Legend (Best Original Song, "Glory" from Selma): race and social justice
J.K. Simmons (Best Supporting Actor, Whiplash): loving and calling your parents
Graham Moore (Best Adapted Screenplay, The Imitation Game): gay right and suicide prevention
Eddie Redmayne (Best Actor, Theory of Everything): ALS
Julianne Moore (Best Actress, Still Alice): Alzheimers
It's easy to be cynical and say that these speeches don't change anything but you know what? It's also easy for these folks to thank their agents and their parents and be on their merry ways. I, for one, am really pleased that they are using their speech time for a cause greater than themselves. Because at the end of the day, people's parents and coworkers know that they were important to these winners; audience member and folks at home (like me!) don't always know about the issues that the movies touch on. Especially with arthouse films that don't receive a wide release, I think it's crucial to drive the point of your film home if you are honored with an award.
OF COURSE I NEED TO SAY that it was a problem that a) we had so little racial diversity in our nominees this year (and even with our presenters) and b) that all of the Best Picture nominees that weren't Selma were about a white man's struggles. Most of these stories were really worth telling, but are others not? It was a problem. We need to address that and I hope that Hollywood and the Academy take note.
I had so many thoughts during the Oscars so, at Christine's prodding, I live-tweeted again this year. There were a lot of moments I couldn't even capture through my live-tweeting, but I really enjoyed the Oscars this year. I've put together a little Storify with my Tweets in chronological order if you're curious to see what kind of manic episode I was in last night.
Do you usually watch the Oscars?
Did you predict the winners correctly?
What were your favorite moments?