I have to first confess something before I do my first movie review since… 2017? (Wait really??)
I have not been as interested in Marvel since Avengers: Endgame, which gave me an unreal amount of closure and finality.
You may be wondering if I have watched anything from the MCU since Endgame and the answer is yes, I've watched all the things since Endgame but Phase 4 hasn't held much of my interest. I enjoyed WandaVision and The Falcoln and Winter Soldier and Loki and Shang-Chi (not so much Black Widow) but I'm not invested in this cinematic universe anymore.
So I'll admit that I thought I was detached enough to not really need to see Eternals.
Until it seemed it would get spoiled for me, and I realized I wanted to see it enough to not want it to be spoiled. Whodathunk, this MCU sucker is still a sucker after all.
Before Eternals's release, there was a LOT of buzz. The auteur director fresh off her Oscar win! A star-studded and diverse cast! Including not one but two Stark brothers from Game of Thrones! It's Phase 4 and we're working in more comics material, aka things are getting weird! As soon as the hype started, the critiques started coming in, too. Before I bought a ticket, I was hearing a lot about how this movie got the lowest Rotten Tomatoes score of any MCU film ever, how the movie was just being review bombed by people who hate women directors and a diverse cast.
Well. I went to go see for myself. (No spoilers until after the trailer.)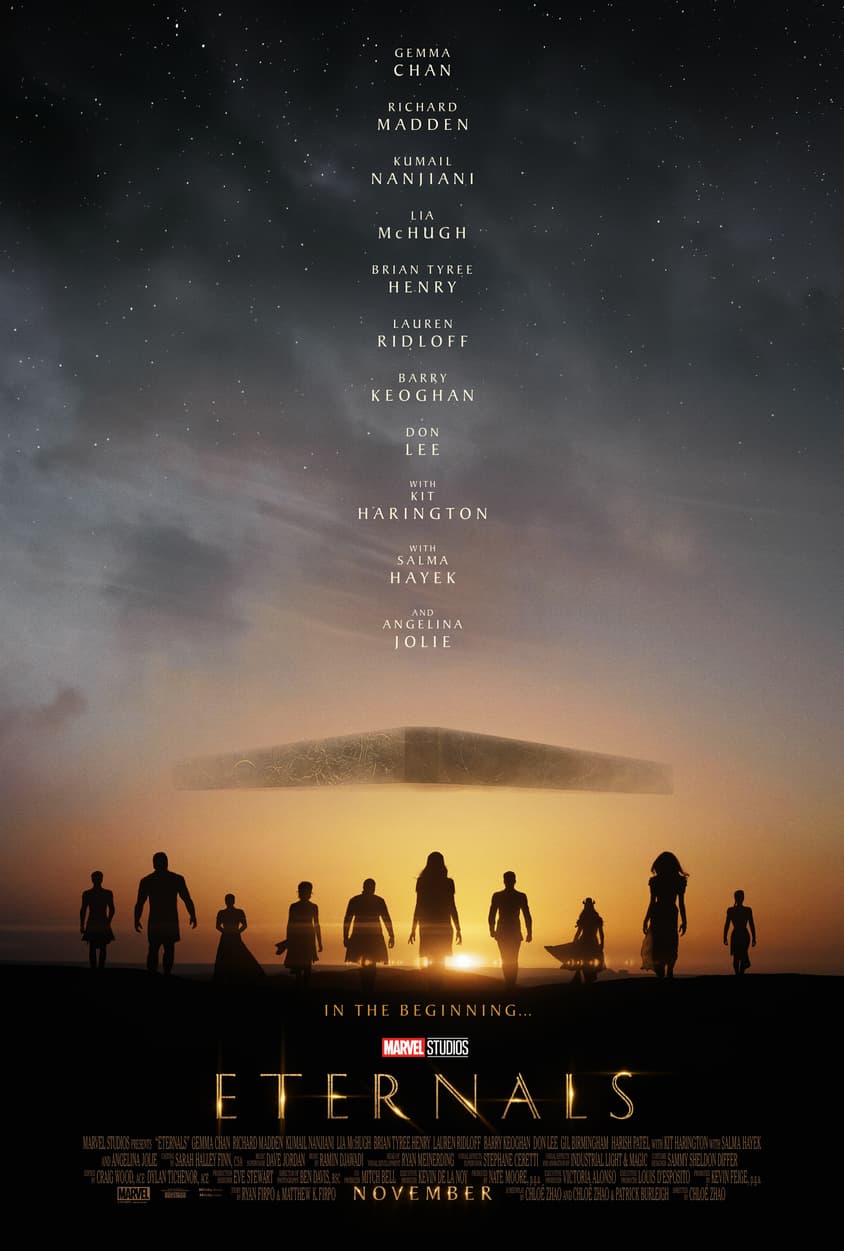 I went in with quite low expectations, given all that I had heard, and came out of the theater thinking it was a decent Marvel movie. My main issue was that it was a bit too ambitious. Eternals is hardly connected to any previous MCU movie. Basically every mention of other Marvel characters or events is in a trailer: Thanos obliterating half of the universe and everyone being brought back, Captain America and Iron Man and the future leadership of the Avengers.
But otherwise, this movie felt like the start of something brand new, with many possibilities for sequels and spin-offs but little tying it to the pre-existing MCU. I don't think seeing any of the past 12 years of Marvel movies will help you understand this one more. We are introduced to a lot of new characters, including 10 Eternals.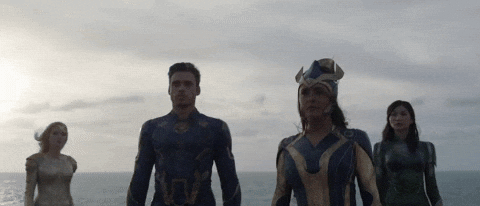 I mention this because with us being 13 years deep into the Marvel Cinematic Universe, building towards bigger and more integrated stories, Eternals felt unusual in that it focused on completely new-to-movie-audience characters, teased even more new characters by the end of the movie (including their infamous mid- and post-credit scenes), and focused on powers and stakes and settings that we have not really touched in any of the past movies or shows.
That being said, this movie had a strong emotional core. I think I cried… 3? times over the course of the film. (True, I cry very easily, but still! I usually don't cry more than once or twice a movie.) Some early reviews said that this was the first Marvel movie to feature a romance as a primary plotline (versus the many… mediocre at best romances we've seen in the MCU) but I actually found the romance in Eternals underwhelming, especially when compared to the much more compelling family relationships between the 10 Eternals. 10 superpowered beings brought together on this messy planet of ours for millennia leads to some interesting dynamics that I enjoyed seeing play out.
My main critique of the movie is that it was too ambitious in what it tried to achieve in a single feature-length film. I'm still not too sure what each of the Eternals' powers are? The plot was simple but not straightforward and could have used a lot more time to flesh out the stakes, the context, all of these brand new characters.
Speaking of these characters, I really did love how diverse this cast is! Lauren Ridoff, the deaf actor who plays the first deaf MCU superhero, and her standout performance as speedster Makarri have led to an increased interest in learning American Sign Language. Brian Tyree Henry and his character, Phastos, represent many things to many people, not least of all as a man who didn't have to lose weight to be a superhero. Salma Hayek was moved to tears upon her own realization that her Ajak is a brown face in superhero suit on the screen. Gemma Chan and Kumail Nanjiani and Don Lee are representing Asian actors in ways that are still not yet often seen in Hollywood.
And I would be remiss if I didn't mention how stunning this movie is. Marvel has cast many different directors with distinctive styles to helm their movies, and although I haven't seen any of Chloé Zhao's movies before, it had an immediately recognizable visual style that sets it apart from the rest of the MCU. To be honest, sometimes the visuals felt too grandiose, so as to almost feel unreal, almost fake, even though Zhao opted to shoot on location in lieu of green screen. At times, these beautiful visuals were distracting in how long the camera lingered on them. In a movie where time is scarce and we didn't have enough time to get properly situated in the world of Eternals, some of the scenes felt too indulgent. Sure, the scenes are gorgeous, every frame a painting, but some of them don't have enough substance to support them, in a film where we really needed a bit more support to this story.
Phase 4 is getting weird, folks. As we drift farther from the watered down, more palatable comic storylines of Phase 1 and into the cosmic, multiversal narratives, I'm curious to see how the next years of Marvel movies play out. I'm not sure I feel as invested as I was a few years ago before Thanos snapped half of the universe away, but it'll be a fun ride.
Read More »