(Sorry about that pun, I had to try!)
This past weekend, I took a little weekend getaway with my boyfriend back to my native metropolis of New York. I was born and raised in New Jersey, and I will always love the city. My boyfriend really wanted me to share my love for the city with him, so off we went on Thursday.
OKAY I need to say something about BoltBus. Now I have heard a lot of good things about them, but it was my first time riding with Bolt to go up to New York. It was good and very timely but DANG, the air conditioning was blasting onto me the entire trip and I was fuh-reeeeezing. Seriously, they need to fix that. Way too cold. The entire wall of the bus was cold, so I had to lean away from the side of the bus and cover the vent with my jacket, because wearing my jacket didn't really keep me warm when there was air blasting at me. 😦
OKAY SO. (Links to my reviews included.)
We stayed at the adorably Irish Fitzpatrick Grand Central. (Seriously. So Irish. So adorable.) Very comfortable stay, and the location was great. We were only a few blocks away from the Halal Guys cart at 53rd and 6th, so we were pretty much golden.
I saw my old friend from elementary school, Connie, for dinner that evening. It was really nice catching up with her, and I was really relieved seeing her. I remember the last time I saw her having nothing to say… so it was nice to feel like we didn't have enough time to say everything we needed to say. We ate at Baohaus because Max Brenner is closed for renovation. 😦 Then we headed literally around the corner to try Momofuku Milk Bar, since I've heard soooo much about David Chang and his Momofuku restaurants and the cereal milk and the crack pie. (Verdict: Okay, not worth the hype though.) Then we just chilled in Union Square for a little bit before she headed off to go back home.
We walked to the High Line, which is one of my favorite places in the city. I think it's just so nice to be above all the craziness, plus I love the urban design of the park, which used to be part of a railroad line. There's a bunch of plants and sculptures and great views up there. It was nice to visit with my boyfriend this time, because it is definitely a very romantic place? And almost exclusively visited by couples. The last time (and first time) I visited, it was with some of my bros. Hahahaha awkward.
Then we decided we'd just walk back to midtown, taking a little detour through Times Square so that Ben could see what was what. I spent a very long time in the Disney Store because I'm a pretty big Disney geek. It was a wee bit frustrating for me, mostly because Ben's childhood is suspiciously devoid of Disney. He asked me such absurd-to-me questions as:
– Is Goofy Disney?
– That looks like Mary Poppins, but she's not Disney, right?
– What's this from, Hunchback of Notre Dame? (Pointing at BELLE in the Beauty and the Beast section of the store.) (He reasoned that both stories were the same thing. Ugly guy, pretty girl. WOW SO MUCH WRONG.)
Basically, if you imagine me staring at him slack-jawed and then slamming my palm into my face, you'd be right.
We then went off for chicken & rice at the Halal Guys' famous cart at 53rd & 6th and walked back to our hotel, where Ben was blown away by how yummy the food was. Duh, I would never lead you astray.
The next day, we slept in. This is a big deal for me because I'm the kind of person who tries to squeeze as much fun into a vacation as possible. But Ben is the kind of person who likes to sleep in and laze around. It was pretty relaxing to try it out this way, not gonna lie, and I go to the city so often that I have no need to rush around. We went off to go eat lunch at Ippudo Westside (amazing service, seriously). Then, we headed off toward Central Park, making a stop at Columbus Circle and wander around the Shops in the Time Warner Center. We walked about and enjoyed the truuuuuly nice weather we were having.
We were going to meet Ben's old roommate and his girlfriend for dinner, so we started down 5th Ave to do some casual shopping and for me to point out some key spots. Stopped by Uniqlo but I get super overwhelmed by stores on that scale. (e.g. the Forever21 in Times Square, the H&M on 5th Ave…) But I had fun shopping around, looking at things, before we headed down to St. Mark's for dinner.
I had eaten the Korean fried chicken (aka KFC) at Boka before, and I was trying to not let it bug the bejeezus out of me that Ben's roommate didn't want to make reservations for us on a Friday night… I figured it he wanted drinks, I'd just take us to this Korean bar for wings and watermelon soju. (They serve it in a watermelon!) We ate, I grabbed some bubble tea, and we sat around in Washington Square Park for a bit before heading our separate ways.
Ben and I went back through Times Square, where I went back to the Disney Store and ultimately bought 2 things:
I got this T-shirt because a) it was one of the FEW things on sale due to the fact that b) it is a limited edition Artist's Series Snow White T-shirt. They only had it in large and 2XL… but I bought the large because I did like it and it is a limited edition. I don't know any fancy tricks to make it fit my body better, so I've only worn it underneath blazers and cardigans so far.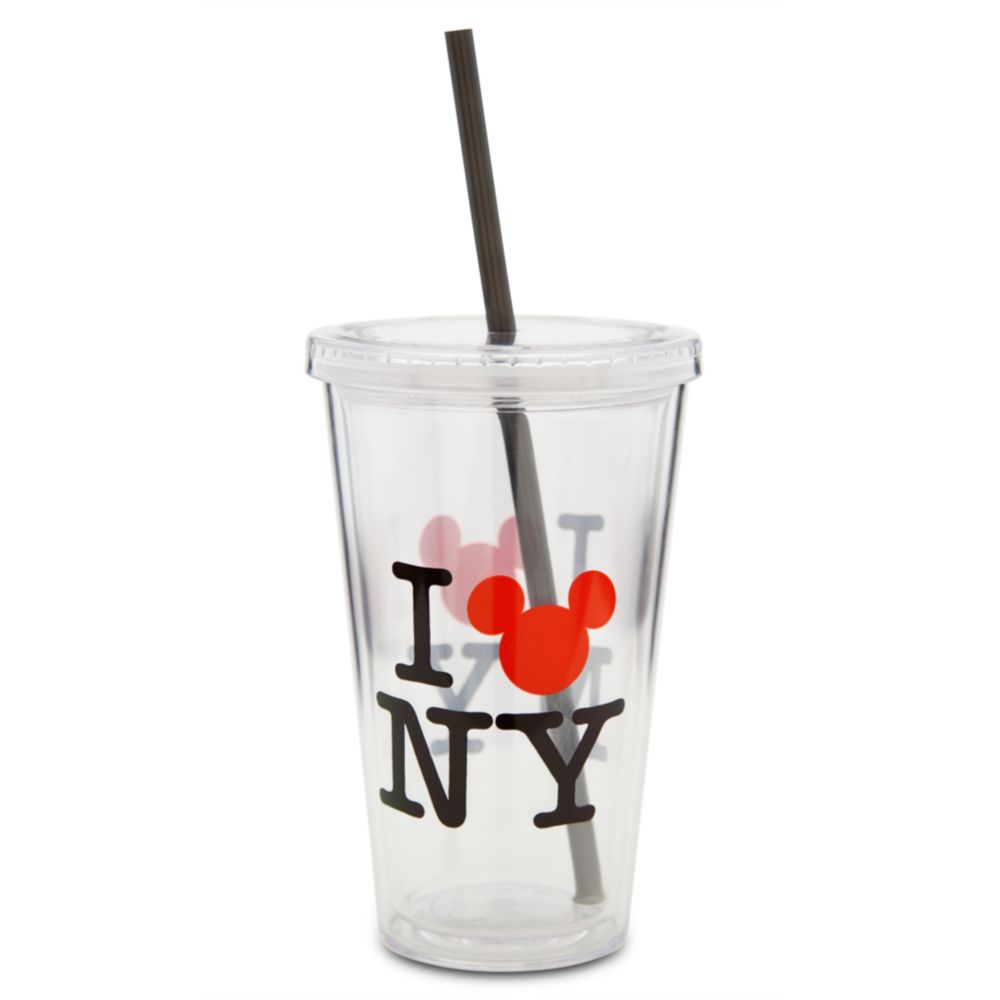 I figured since this is the Manhattan Disney Store, I should get something that shows my love of my favorite city and of the Mouse himself, so I grabbed this tumbler. I don't know when is best to use it, but I liked the design a lot. I would've gotten a T-shirt if the ones I liked came in smaller sizes. (Why were all the shirts either an L or a 2XL??) (Or ugly?)
Grabbed some more chicken & rice on our way back to our hotel and got some sleep in preparation for our final day in the city.
We headed BACK down to the East Village again (again) to eat brunch with some of my friends I knew in high school. We ate at Yuca, this trendy tapas place with a pretty yummy brunch menu, and chatted about some random stuff. I'm glad my friend Albert was able to make it because he helped add a little more energy to our otherwise sleepy Saturday morning. Then we rounded the corner to hit up the Big Gay Ice Cream Shop, which I've heard a lot of hype about, too. Good ice cream, good drag queen.
Ben and I then headed for Chinatown, where we walked around a bit and got a quick bite to eat at XO Kitchen (recommend!). I was able to walk along the Brooklyn Bridge after, which I've never actually been able to do before! That was pretty fun, although it was a much longer walk than I anticipated, just trying to get halfway across the bridge. Ultimately, we had to turn back so that could catch our bus back to DC.
 I had a great time, and even though I was being really difficult about the planning, I am super glad that I was able to relax and attempt going with the flow with Ben. I saw some old friends, I got some Disney swag, I ate delicious food, I got to spend time in my favorite city. It was a great trip.