We interrupt the hiatus during which you are all waiting for updates from China (and also Europe) to bring you my [mostly] annual Oscars post!
Last night, I rushed home to avoid Storm Titan's fury and sat myself in frontof my TV with my computer. I didn't plan on it, but I wound up live-tweeting the Oscars, whoops! It was nice in that I kind of felt like I was watching with a handful of my friends, but I don't like dividing my attention between my computer and my TV. I've never been a live-tweeter, and it's really exhausting!
I'll list the winners & nominees at the end of the post, but here is essentially an in-depth look at my live-tweeting and thoughts as I was watching the show.
[ The Host ] This year, Ellen Degeneres hosted again, and she kicked off commenting that a lot of things were the same as the first time she hosted in 2007.
I have to be honest with you all: I didn't love her as the host this year.
That's not to say that I hated it. But I didn't love it. We've had worse hosts, and we've had better.
My problem with how Ellen Degeneres was as a host  – and to be honest, how many of our recent hosts have been – is how hard she worked to be funny. Way too hard. She's effortlessly funny, but I could feel a lot of effort on her part. One thing about me is that I don't like feeling a performer's effort. I know how much goes into it, but if it translates on stage, then he/she hasn't done enough. For example, this famous selfie, which required about 2 minutes of her asking people to be in the photo with her: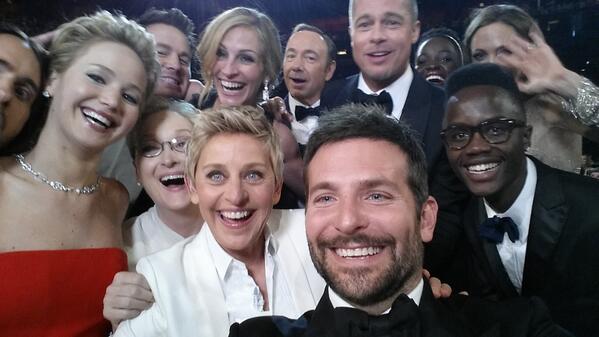 It was a lot of fun to watch, but it was really forced. (Not to mention that it was paid for by Samsung, which explains why it was so forced.) Kind of like our annual host-in-an-awkward-costume moment.
Ellen was also teasing the audience members without making it as funny as it could have and should have been? For example, asking Amy Adams if she went to college and just kind of letting the "no" hang… in… the… room… for… a… bit…
I don't want to talk too much about the pizza bit but something has to be said. It is ridiculous how much time was spent watching Ellen "take orders" for pizza and then distribute the pizza, considering how little time some of the winners had to thank the important people in their lives when they won their awards. This was, again, a really forced gag that I didn't enjoy after having watched this awards show for 2 hours. What were they trying to sell me, exactly? Pizza? Seamless.com services?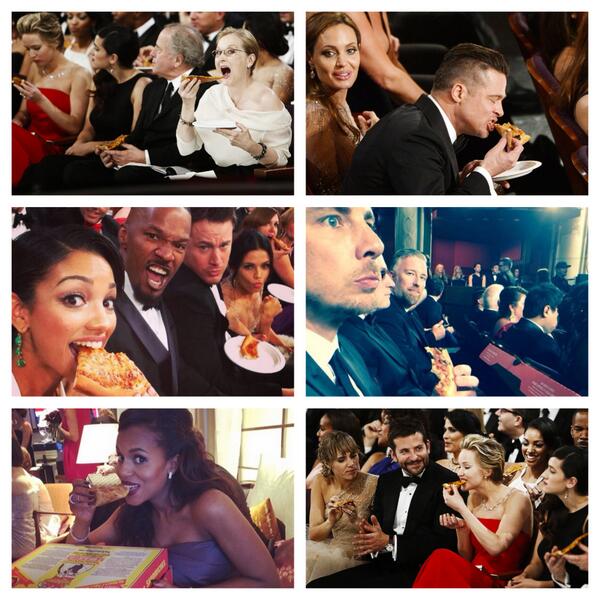 In short (she said after writing a 5-paragraph essay), I was disappointed because Ellen was not as charismatic as she usually is. One of my friends said that he thought Seth MacFarlane did a better job hosting. I grossly disagreed, because I really did not like how Seth MacFarlane hosted in the least, but he was admittedly more charismatic on stage. He had more confidence in himself and had smoother interactions with the other celebrities. Ellen seemed nervous, if nothing else, and it made the show a little more awkward and stilted than it needed to be. I felt let down by how much air time was occupied by these moments that were meant to be much funnier than they wound up being.
That being said, I still adore Ellen Degeneres. I'm sure she'll be back to host the Oscars again, and I look forward to it.
[ Wizard of Oz Tribute ] I was wondering why Liza Minelli was in the audience and why there was so much attention on her, and last night I learned that she is one of Judy Garland's daughters! Wow. What a talented family. (Although, I must admit, I was a bit frightened by Liza Minelli. She looked… mean? Not sure how else to describe it? I had a friend say she looked like a movie villain.)
While wondering why we were paying tribute to the Wizard of Oz (does anyone have an answer for this?), Pink ("P!nk") sang the famous famous song "Somewhere Over the Rainbow".
I didn't like it very much.
Now don't get me wrong, I know that Pink is an amazing singer. And she sang well last night (aside from some breathing issues, and I know she knows better than to breathe like that). But this isn't the kind of song that should be belted, ya know? It's a timeless classic, and I prefer it to be sung classically. It felt over-pop-ified, and I know that's an unpopular opinion, but I simply didn't like her rendition of the song being sung at the Oscars.
[ Let It Go ] I was legitimately concerned about John Travolta when he completely botched Idina Menzel's name as "Adele Dazeem"? Did someone check to see if he had a stroke or something? He pronounced it correctly during rehearsals, so maybe he was just nervous?
Speaking of nerves. Idina Menzel. She was noticeably nervous and it broke my heart to see that. Or she was holding back laughter about the mispronunciation of her name, but she was not hitting her notes when she sang "Let It Go" and, frankly, it made me quite sad to see. She's a great performer, and I know that and all her fans know that. I know she's great, but I'm sad that she got so nervous during this performance.
[ Winners & Nominees ] In general, I really agreed with this BuzzFeed article that was extremely thorough (and accurate) about who should win and who would win.
Gravity picked up the most awards, and I'm sorry that I wasn't able to see it in theaters because I heard it was an… experience. The visual effects award belonged to no other movie, that's for certain. And Alfonso Cuarón became the first Latino director to win the Best Director Oscar, which is wonderful!
American Hustle walked away empty-handed, which was surprising for some people but was predicted by that BuzzFeed article:
"After a series of enthusiastic industry screenings in December and its win at the SAG awards, American Hustle's momentum, for whatever reason, seems to have waned — in fact, there is an outside chance it could go home on Oscar night empty-handed."
12 Years a Slave won Best Film and Best Adapted Screenplay, while the effervescent Lupita Nyong'o won Best Supporting Actress.
This marked the first black director (Steve McQueen) to win and the first black screenwriter (John Ridley) to win, making this a good year for improving the racial diversity of the Academy Awards.
Jared Leto won the first award of the night for Best Supporting Actor, which he deserved, according to many sources. (I haven't seen Dallas Buyers Club.) I am mildly biased against Jared Leto because a) I am jealous of people who are both very talented musicians and very talented actors and b) I am jealous of his glorious hair.
Also, Matthew McConaughey won Best Actor, which was more of an upset for Chiwetel Ejiofor than it was for Leonardo DiCaprio, because let's face it, Leo wasn't going to win this year. We must endure the jokes for more years to come. I am so proud of Matt McConaughey. Watching How to Lose a Guy in 10 Days, I would never have imagined his career trajectory would take him to this past year, where he was really great. His speech was a bit weird (a lot of people took issue with him calling his future self his hero) but he threw in an "all right, all right, all right" and all was forgiven.
There's not much I can say that isn't said in the BuzzFeed article or in my tweets, but it was a really great show this year! I'm excited to watch all the films I didn't get to watch yet and also for the upcoming year's films and subsequent awards.
As a bonus for all of you who've waited so long for a post AND read through all the way to this point, here is a photo I took for the March DisneyBound Challenge. 🙂