Hello folks! Trying very hard to get back on schedule with blogging so here's a quick little recap of February as far as what I've been up to and what I'm looking forward to doing over this last week!
Looking Back
Since finishing my web development course, I've been keeping busy looking for a web-dev job and resuming whatever life it was that I led before this 12-week course! The month kicked off with me taking every member of my nuclear family to the airport to ship abroad, one family member a week. My brother is studying abroad! And my parents spent Chinese New Year with our family back in China. (I was invited along, but figured staying here to try to get a job was my priority. Sadness. On the bright-ish side, I definitely didn't have to worry too much about neglecting family obligations during my job hunt because no one was in the country!)
I spent Chinese New Year (and Super Bowl Sunday) with Ben and his family, trying to tell myself that my weeks-long hot wings craving would have to be put aside for a delicious Chinese feast. On 春节 itself, we had a lowkey 小笼包 (soup dumpling) and Peking duck dinner. It was easily the quietest Chinese New Year I've ever experienced (the restaurant wasn't even crowded??) and I felt a dull aching for a rowdy family affair in that moment.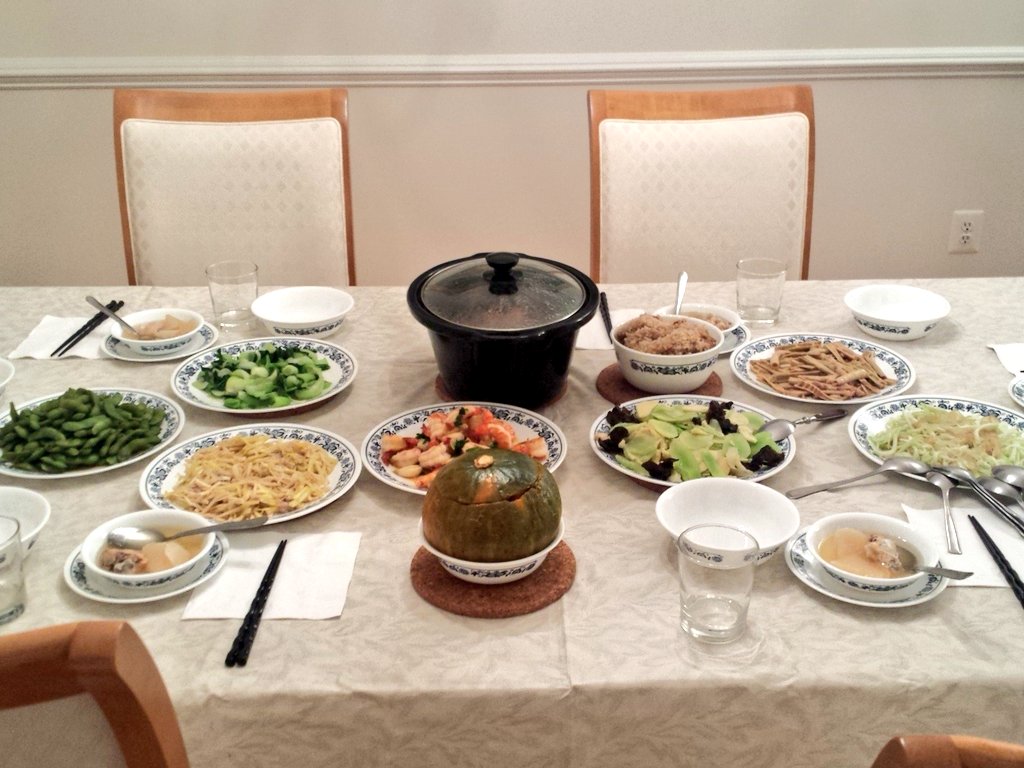 As February went on, I got ready for one of the most divisive holidays in this country with a Galentine's dinner! I was finally able to catch up with two of my favorite people from one of my old jobs. We went to Mussel Bar & Grille, one of my favorite places that I am constantly telling people to go to (and to invite me along when they do), where we ate lots of mussels and talked for a very long time.
Valentine's/President's Day weekend was crazy frigid! Ben and I did brunch on Saturday and went to my friend Tim's annual party again this year, and while we didn't have to risk our lives driving through a snowstorm or into a bus, the sprint from the car to the house and back was very brisk thanks to the 9°F (roughly -13°C) temperatures that evening! It was a lot of fun and Tim has a new, fancy, home-photobooth setup that will be featured in his future parties so we're all excited about that because I love me a good photobooth!
On Valentine's Day proper, Ben and I took it easy and watched Deadpool, which I reviewed for you all last week. There wasn't much else to Valentine's Day but Ben and I spent a lot of quality time together and I think that was much more meaningful to the both of us than throwing a bunch of money at the holiday to try to be more formally romantic.
Would you believe that, despite not yet having a job and being a mediocre role model at best, I was invited to speak on the alumni panel for my web development course? I guess it's because they know I am not terrible at public speaking (I was also invited to speak at my graduation). I'd like to think that I added real value to my panel, in spite of my questionable deserving of being up there, because I did speak a lot (surprise surprise). My advice is very "do as I say and NOT as I do", as I need to start following a lot of the advice I was giving to the new students. Here's hoping that I came off as wise and not a know-nothing-loser!
A couple of other things happened, like sending off one of Ben's coworkers and seeing just how turnt they can get (same goes for the people of Herndon, Virginia!) and doing a cycling class that didn't end with me having to be carried out of the room. (Pretty huge for me, after, considering how embarrassed I was in front of beautiful Garrett at SoulCycle…) (Also, I walked out of the class with a smile on my face? And not my signature workout-pout??)
Looking Forward
On Friday, I'm going to be going to NSO Pops: Broadway Today with Darren Criss & Betsy Wolfe at the Kennedy Center (you all know how I adore the Kennedy Center) with my friend Annie! I'm pretty excited because DUH Darren Criss! Plus, who doesn't love some modern Broadway songs? (Full disclosure: I am bit out of the loop with contemporary musical theater, so this should be a nice little crash course.)
I would like to go to the new Light Yards installation at Yards Park. Last weekend, they opened to the public with light shows and DJs, and this Saturday, they are unveiling…
… giant glowing bunnies!!! So I'm kind of excited for the chance to see them, weather- and laziness-permitting. If I do make it to the District this weekend, I'd love to also do some DC things that I never get around to doing, like maybe skating at the National Gallery of Art Sculpture Garden ice rink! That plus the giant glowing bunnies would make for a pretty swell Saturday, if you ask me.
---
How has February been for you? (Can you believe it's almost March already? And yet it's only February??)
What are you looking forward to before February (and its leap day!) are over?
What are you looking forward to in March?
For more regular updates on the little things I do, I am a little more active on Twitter, sort of on Instagram, and I'm trying to be better on SnapChat. The username to look up on all 3 is sipofstarrshine.