Perhaps because of how my 2020 goals went, or just how 2020 went did much to rein in how ambitious I was come New Year's Day, but my 2021 resolutions were decidedly shorter in number and smaller in scope. Maybe a year of setting SMART goals (Specific Measurable Achievable Relevant Time-bound) has helped me reframe goal-setting in a way that sets myself up so that I can look forward to success rather than disappointment with myself.
In these first few extremely tumultuous weeks of the new Gregorian year, I've noticed that there are still ways I hope to grow into the person I want to be that I didn't capture in my resolutions post, maybe because they didn't feel specific enough or maybe because I didn't want to commit to them in a formal blog. (I included a few tentative ideas for these goals at the end of my resolutions post. Looking back, I feel sheepish about hedging so much about the commitment of making them big-R Resolutions but apparently, 3 weeks later, I still don't feel comfortable with these goals having the same priority as my resolutions.)
But I think it is still valuable for me to share what some of these other goals are, both for accountability and for the sake of documenting what was important to me to try to change, what kind of person I was hoping to become.
So, here are a few other goals I have been working towards, not just in for the year 2021 but for some time now.
Reduce/stop shopping through Amazon.
I have become increasingly uncomfortable and unhappy with Amazon's business model of monopolizing shopping and mistreating workers, as well as with my part in enabling it. Like many people, I've been shopping on Amazon for a very, very long time, as I split the student-discounted Prime membership with my roommates back in college. That Amazon has become such a large part of my shopping experience, both online and in-person when I have the urge to check the Amazon price before purchasing something, is one of the very reasons I no longer want to give this profit-at-any-and-all-costs company my money anymore. While I would love to be able to just quit cold turkey, during the pandemic, I still find certain necessities only to be available on Amazon, since I do not leave my building for any reason and not to enter a brick-and-mortar store. However, I spend the extra time and money to look for an alternative vendor to buy my items, even if it means using another not-very-ethical one, so badly do I want to break free from Amazon's monopoly. Ideally, I am able to find a small business, perhaps BIPOC-owned, to support with my purchase and not need to strain the environment or our delivery workers with suspicious-fast shipping.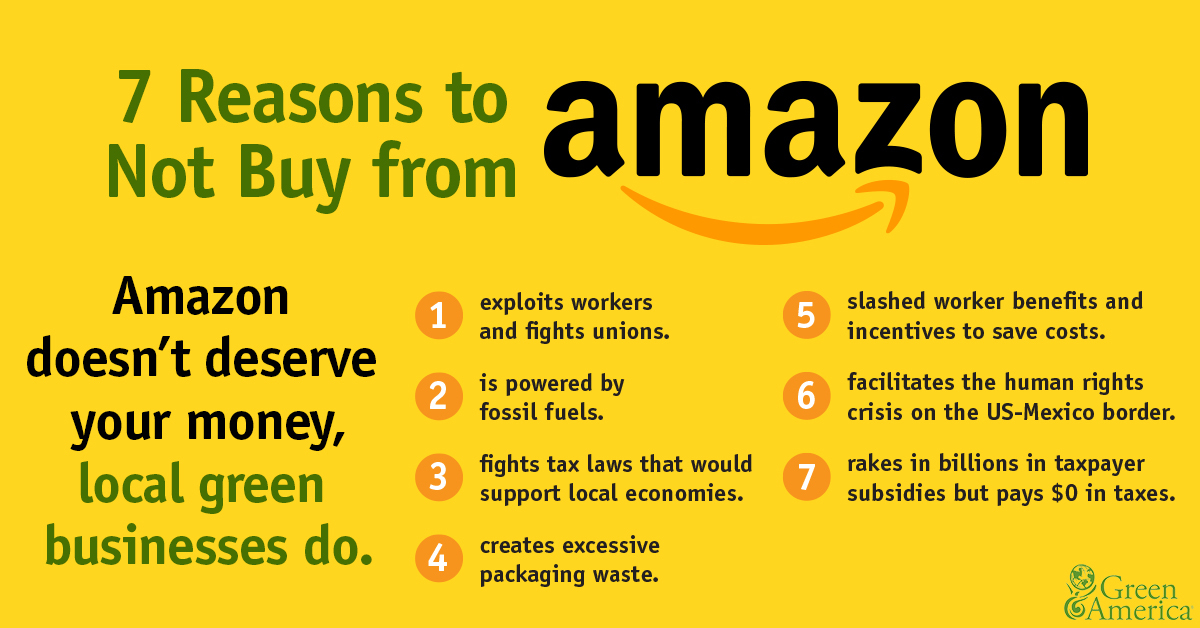 For example, I have begun to purchase skincare items from oo35mm, a much-beloved local shop located in Manhattan's Chinatown. While items can cost significantly less to buy on Amazon and other beauty sites, I feel better supporting this local business that benefits a lot more from my patronage than Amazon and other e-retailers would. Plus, in this case, oo35mm puts a lot of care into curating and recommending products, I have been treated so kindly when I visit them in-person and look forward to being able to do so again someday soon.
Reduce/stop shopping through food delivery services.
When I moved to New York, I was extremely adamant about not ordering delivery with so much amazing food being so easily accessible to me, whether on foot or via a short subway trip. Of course, everything changed last year when the pandemic hit and restaurants were no longer safe to visit. We started using food delivery services to support local restaurants, ordering from places that were maybe ridiculously close to our home so as to not burden delivery workers too much and to avoid going outside ourselves. But a few months in, when these food delivery services stopped waiving commission fees or started collecting retroactive commission (!!), we began to feel extremely guilty about restaurants losing 30-40% of the money customers were paying to these services, which were feeling increasingly predatory. Pre-pandemic, most restaurants treated delivery — especially through these services — as supplemental income if it profited them at all, marketing to get people familiar with their food in the hopes that they would visit in person next time. Now, this is their primary income, in an industry that already has very slim profit margins, and they have to fork over a third of it to these companies that seem increasingly predatory.
Previously, we would call a restaurant (using the phone number on their website and NOT necessarily the phone number Google or Yelp provide) to place an order for pick-up, which not only reduces risk for delivery workers but ensures the restaurant gets all of the money that you intend to go to them.
However, with it being so much less safe for us to do this, we are trying to use Chownow for our food delivery needs, as they charge restaurants a flat monthly fee instead of commission on every purchase. This Instagram post explains it very clearly, with a real restaurant example.
Reduce my carbon footprint. I have been working for most of my life to reduce my personal environmental impact but it is more important for us to have larger entities (corporations, governments) make a concerted effort to do the same because our individual footprints are just drops in the bucket in comparison. I am still maintaining the habits that I mentioned in my Earth Day post and trying to reduce the habits that we had to pick up during the pandemic – explicitly requesting no plastic utensils when ordering delivery (although this request is ignored almost every time), trying to place orders in as few packages as possible, switching from disinfectant wipes to disinfectant spray, to name a few. The environment is always something I think abut, and I think often about what will happen when businesses open back up when it comes to my habits. (Will I start carrying a reusable cup to bring when I buy beverages, for example?)
Floss every day. I apologize to every dentist I have lied to about flossing daily but I was doing it closer to once or twice a week… when I was being good. Last year, my brother's friend actually told us her resolution for 2020 was just to floss daily and I guess it took a truly traumatizing cleaning with the roughest hygienist I've ever had the displeasure of sitting with to have me try this out, too. I've been flossing much closer to daily (although still missing a few days) for the past few months and will try to keep it up. My brother's friend said she just switched to a more comfortable floss and I tried the same kind and, I gotta say, it really does make this an easier habit to stick with.
With regards to my resolutions, I'm doing… okay:
Meditate 5 times a week – This is probably the one I'm doing worst at right now 🙃 I'm certainly not anywhere close to this regular with my meditation practice. This upcoming week, I may switch back to the first Calm app course I tried, which I really liked and during which I was finding the most success with meditation. It could be as simple as liking that narrator more, or the guided prompts landing better with me, or maybe it's just that I was in a better headspace for meditating back then. We'll find out.
Journal once a week. I try to do a big recap journal entry on the weekend but it's difficult to increase the frequency without holding myself to a daily habit, and with me struggling to recall all the things that happened in the week – even during quarantine – my journaling isn't as reflective as I'd like it to be. I am having a really hard time letting go of logging memories, so I'm hoping I can do one here's-what-happened entry and then a second more reflective entry. This will obviously be a challenge since I'm already having trouble doing one entry a week as it is, so again, we'll see.
Improve my splits. I am stretching regularly but not daily. I have been better about trying to stretch when I find myself watching videos/TV/movies but sometimes I find myself really potato-ing and burrowing deep in the blankets. I think the cold has been a factor, so I just have to warm myself up a bit more to get motivated to stretch, whether by moving my body or turning up the heat.
Call one friend and one family member a week. This is going… okay… I think I've generally been doing it but it isn't having the effect I was hoping it would. I'll keep it up and try to be a little bit more mindful of it, too, but it is something I like and plan to continue for as long as I can, even when quarantine ends.
Go meatless once a week. My husband has actually been holding us to a stricter meatless Monday than I had planned and it's been going pretty well. We occasionally find ourselves scrambling a bit at lunchtime but otherwise it's very easy when we indulge in Indian food on Mondays and I am working on learning more vegetarian recipes at home, too.
Stop living apologetically. To my great surprise, I think I'm doing a lot better at this than I thought I would be a month into 2021. At work, for example, I am voicing my opinion a lot more than I usually do, and asking for help when I need without hesitating for as long as usual.
---
January has been very eventful, and I anticipate February will only have even more in store for us. We are due for a big snowstorm here in New York, with my friends back in the DC area already enjoying the nor'easter snow today. Lunar New Year and Valentine's Day are a few days apart, over a long weekend for people who have off on President's Day.
Here are all the songs that have randomly gotten stuck in my head this month, by the way:
How has your January been going?